10:45am
Wow! I think I am seeing some results from the resistant starch experiment! I didn't get up until NINE this morning! Two hours late! Poor Nikky! She had to wait until then to go out! But, I feel like I am behind in everything this morning. Fed the bunnies late. Cleaned the floor late. Went through emails and media sites late ... But, I got a lot of sleep, so must have needed it!
Gah, I still haven't even brushed my teeth. Gotta do that now.
Done.
My mom has everything ready for tomorrow's dinner. We're having a roasted chicken stuffed with wild rice blend, millet, cranberries, apples, walnuts, pine nuts, olives and gluten-free croutons. (Of course, most of it will be baked in a separate dish.) Gluten-free biscuits with lots of butter. Milk with potato starch.
She's making us bacon and eggs for lunch! Mmm.
I really don't want to paint today ... :(
11:45am
Here's the pic of the wind chime I got from Zachary for Christmas.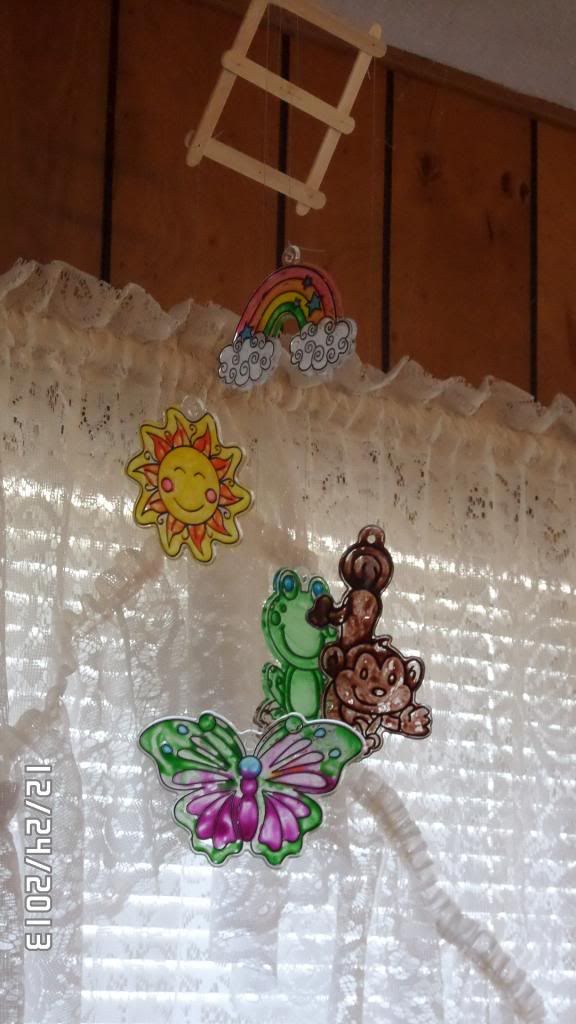 Pretty good for a 4-year-old!! :)
Noon
This is me going out to paint ... hmm, don't see anything happening ... :\
OK. I got ready to go out and paint. I took Nikky out and it is windy! I did not know we were supposed to have wind today. It wasn't windy at 9 when I got up! So, I will not be painting until Thursday. That area is too risky between the shed and house to be messing around on a ladder and on the shed roof with any wind.
So, it's time to cross-stitch!
2pm
Having
Synergy Black Chia Kombucha
with potato starch for a snack. Still cross-stitching ...
6:30pm
We had fantastic
Llano Seco pork
shoulder steak rubbed with pepper jelly, with salad for dinner. And,
Numi Honeybush tea
with milk.
Just finished cross-stitching for the day. I think I accomplished quite a bit! Just have some black back-stitching left to do, so will have it finished by the weekend, I think. Then, I'll frame it and decorate the frame.