8am
I got up near my normal time today. So, I guess yesterday, I just really needed that extra sleep.
Water with potato starch to start the day.
I am so cold this morning. I did not turn on the central heat. I am using my little space heater right now. I bought us a new upright space heater for this room, which I'll set up after my mom comes out here. Our other one died last year. I really want to get one that looks like a fireplace with mantle and probably will at the end of the season when they go on sale so we'll be ready for next year!
I really hate using the central heat, which is gas. I hate using gas for anything in the house. The smell makes me sick (that additive they have to put in it) plus have bad memories of an uncle blowing up his house and killing one of their cats ... So, I avoid it as much as I can. I won't even cook with it. I bought electric, portable countertop oven and stove earlier this year.
9:45am
Got the new heater running. Stinks. It will for a couple of hours, until the 'newness' burns off.
Having
Numi Chocolate Puerh
tea. With milk. Yum! I need to get a nice kettle to use on the stove to heat my water. I have several old kettles, but they are more decorative than useful. Right now, I just use a Purex glass measuring cup in the oven to heat water for tea or milk (for hot chocolate!)
10:30am
WooHoo! I just won a 16GB micro SD card on Listia! Took more credits than I'd like, but I need it. Hoping to bid on more, and a USB adapter.
More tea! Trader Joe's Cinnamon Tempest tea with milk next.
12:15pm
Watching season 1 of Ripper Street today.
And, more tea -
Zhena's Gypsy Hazelnut Chai
with milk now. :) Definitely a relaxing tea day for me! I have over 20 flavors to choose from in the cupboard!
1pm
My mom was going to start cooking the bird (a large organic chicken) which she's had thawing in the fridge for two days ... but, it is still frozen! haha! So, it is in water now and should finish thawing in a couple hours. She's getting everything else ready to cook, though. Seems we are having more than originally planned. Baked whole chicken (infused with bone broth via syringe!), homemade cranberry sauce, gluten-free rolls with lots of butter, homemade dressing (wild rice blend, millet, gluten-free croutons, apples, cranberries, olives, walnuts & pine nuts), milk, and homemade tapioca. Haven't had tapioca in years! Almost all of the meal is organic, too!
I'll post pics on my food blog.
Having
Synergy Black Chia Kombucha
with potato starch, and tapioca for lunch.
Mmmm. That was so good.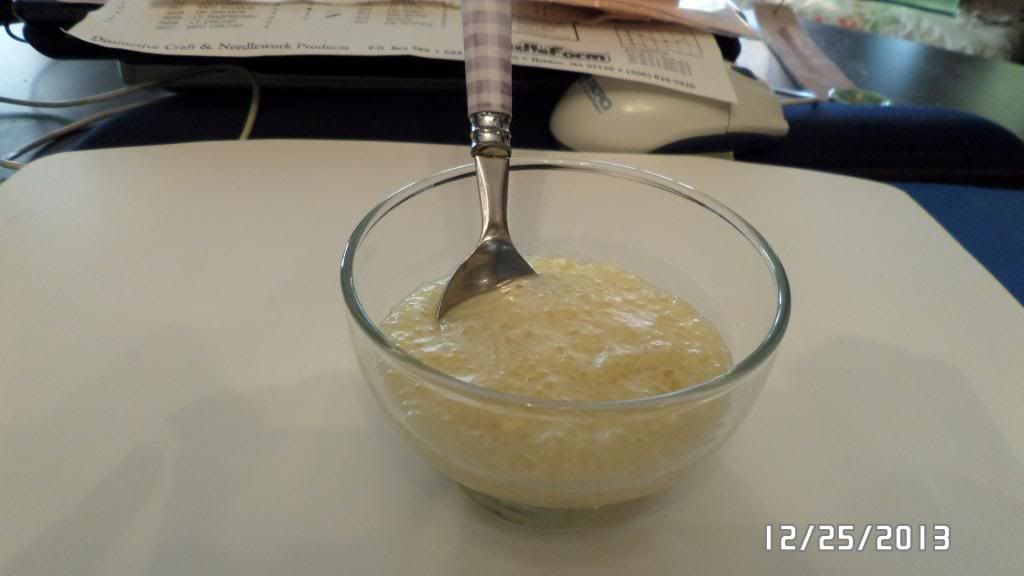 Next up -
Zhena's Gypsy Firelight Chai tea
with milk.
Ooh. We're going to use the fancy old plates. And, goblets. Nice.
3pm
The chicken is on and the rice mixture is on the stove. I think everything will be done by 4!
Nikky will be having chicken neck and liver.
With the 2 space heaters and the cooking going on, it's nice and toasty in here today. It's usually the bedrooms that are warm when I have the central heat on and we're out here in the living room freezing. Today, it's the opposite, as it should be!
My bad shoulder is still bothering me from painting the other day. But, tomorrow it will be more painting in the afternoon (after I go to the co-op for a bunny box and MEAT!) So, I may have to try to rub some arnica gel over it tonight.
8pm
We watched 3 episodes of Ripper Street. We'll watch the next 4 eps of season 1 over the next couple of days. Then, on to the final season. Sad that it was cancelled after only two seasons ... and, being a British show, the seasons are waaaaaaaaaay too short.
Time for some hot chocolate!