9am
Well, thanks to my mom, it's the start of another crappy day. With no escape. She's already made me cry for an hour this morning. I feel like I'm trapped. And, it's still illegal to kill people ... right? :(
I'm so depressed I don't want to do anything now.
Good. The bitch is going to hide in her room today.
Stop threatening my cat ...
Well, so much for that ... now, she's rearranging the damn kitchen again ...
11:15am
It's been nice & quiet for a while. I've gotten 4 pompoms made. I made a little one for Ezra, since he can't seem to find his other 2. That one was just the right size for him. But, way too small for the rug. That was using the largest Lion Brand pompom maker. So, I had to make my own form using a CD and cardboard. Perfect size for what I want.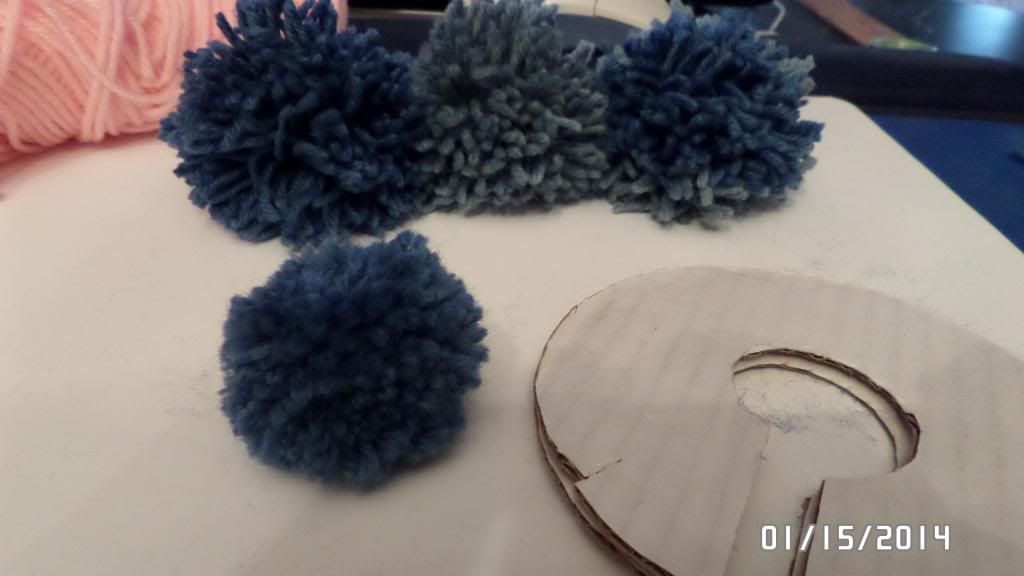 11:45am
Huh. I guess making me lunch is supposed to be an apology for the crappy morning she caused ... :/
12:30pm
Well, since I had such a bad start to the day, I am really not in the mood to paint ... oh, well ... I'm making more pompoms ...
1:45pm
OK. I found a much easier way to make the pompoms! I just cut 120 three-inch pieces for each pompom and tie them in the middle. And, my fingers don't cramp holding the round form ... it's going a bit faster now.
This rug will be in various shades of blue with a white initial in the center. I should have quite a few pompoms made before the craft circle on Sunday and will be able to take them and tie them to the backing while I am there.
3pm
So, I have 9 pompoms made ... this will take a while! ;)
4:15pm
I have been dizzy for the past 3 hours. It's pissing me off. I hope I don't get a migraine. Dizziness is one of my various auras that will precede migraines occasionally ...
And, my bad shoulder is hurting ...
But, I got my paperwork ready for work tomorrow ...
Time for tea and making more pompoms ... I'm having some Gotu Kola holy basil tea. Not one of my favorites. But, I am trying to use up all my tea so that when I stock up again, it will just be with the ones I really like. Sometimes I wish you could just by a single pack of tea just to try it out instead of a box of 20 or more and be stuck with something you don't like much. I'm hoping to get more loose bulk teas in the future, too. That's the best way to just get a small amount to sample.
6pm
I got 12 pompoms done by 5pm. I should make more, but want to get some other stuff done tonight. Plus new Criminal Minds and CSI on later.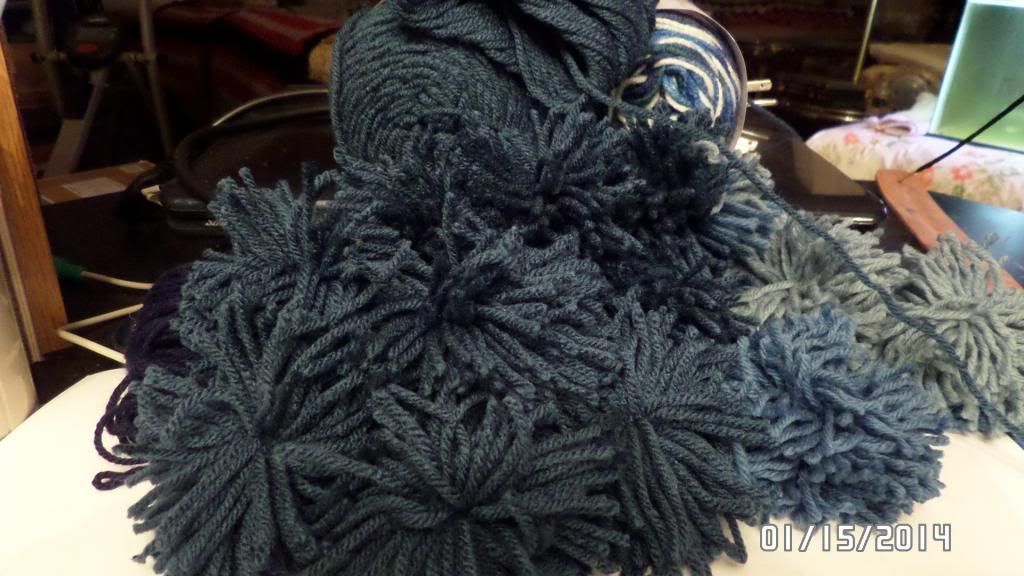 7:15pm
I sure hope my oil check is in the mailbox in the morning ... We are nearly out of food other than frozen fruit. I need to get gas and food with my little work money that gets direct deposited. But, I REALLY need to pay the utility bill and the Home Depot CC bill with the oil check (I've been getting too many calls from them on the answering machine - but no message! I had to look up the damn number!) I'll probably have to change the phone number after this mess is fixed ...
I really don't want to borrow more money from my cousin ... I had hoped to be able to pay him back next month for what I borrowed in Nov. ... :(
Time for some chocolatté maté tea and Criminal Minds ...