8:45am
I am so cold this morning. It was 41F when I got up at 7 and it has gone down to 37F right now ... odd.
11:30am
Got all the cages cleaned and critters fed and floors steam-cleaned. Cleaned Nikky's yard and we walked to the mailbox. It's nice out now. 60F.
Going to have some chia tea for lunch that I made last night with pomegranate white tea.
Need to add veggies to the bone broth in a bit.
Second load of laundry is in the washer.
Dish installer should be here soon.
200 jumps on the trampoline.
Ah, dish guy just called. He's finishing up an install down the street and will be here in about 20 minutes! I think that most of the homes in this park are switching to dish as the cable has gotten so expensive. And, keeps going up!
12:15pm
Finally! My Home Depot payment finally went through to show on their website. Maybe they'll stop calling and not leaving a message! And, I can go get new sockets & switches for my bathroom and hope that will fix my problem in there and I can use my lights again ... Will go after the dish guy is done. I've been using my jumbo flashlight in there!
4pm
The install took longer than I thought it would, so no painting today. After he was done, I went to Home Depot and got some nuts, jerky, toilet paper and a new light and ceiling adapter for the laundry room hallway. It turns out (most likely) that the problem in my bathroom is due to the fact that the ceiling light adapter (damn plastic!) had broken and the light fixture was hanging by its wires!!!! I didn't even notice it (I don't look up in there!!), but my mom did! The light still worked! But, the ground wire had come loose ... So, I will be replacing that in the morning and then see if the rest of the line works again.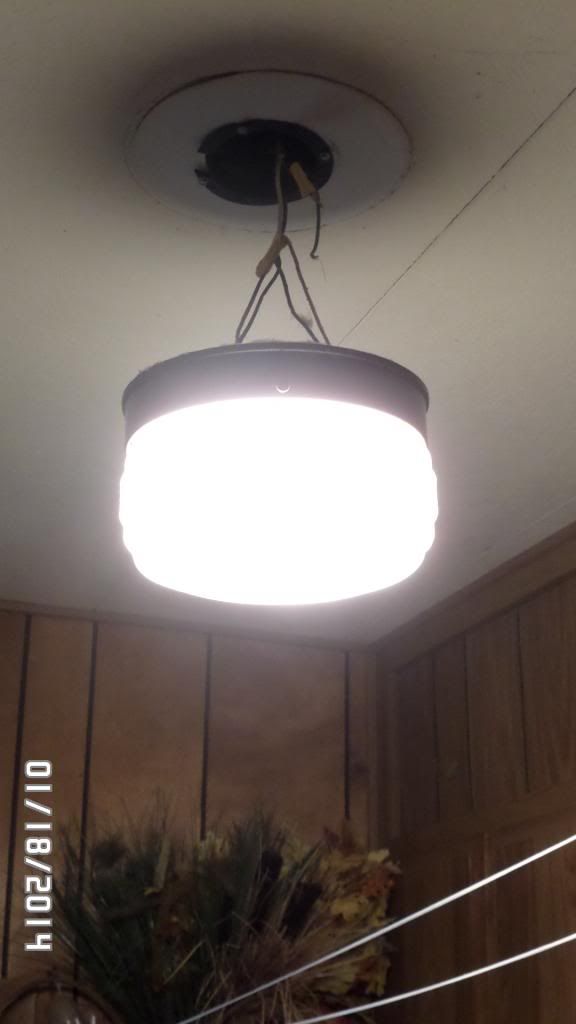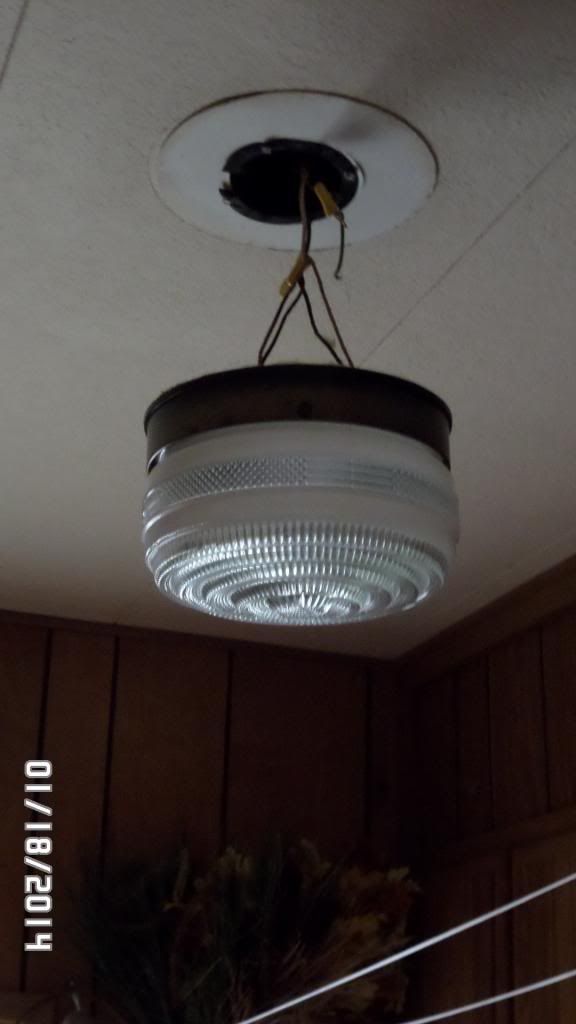 This is the light I got to replace it:
Hampton Bay Oil-Rubbed Bronze 2-Light Flush Mount
It sort of matches the lights I got for the kitchen, which are discontinued ... so, I can't get the actual matching pendant and flush-mount, so I will probably get another like this one for that corner of the kitchen that blew out earlier in the month ... I'm going to have to replace all the lighting, etc. little-by-little. I'm not really surprised, since the place is nearly 40 years old and almost all original ...
Waiting for the bone broth to cool off so I can strip the meat off the bones. We were going to have lentil soup, but it is getting too late. So, we are having the last of the pork shoulder steaks and eggs.
It's going to take a while to get used to all these weird channel numbers with this satellite dish!
I need to call Wave to discontinue the cable TV service ... I'll have to do that in the morning ...
It got to 71F again today. Nice!
6:30pm
Looks like I am going to have to figure out how to lock some of the channels or whatever to make sure my mom can't get them. I don't want to pay for some PPV thing she accidentally orders ... she's driving me nuts with this already.
8pm
Well, so much for doing anything else tonight. I've been watching old eps of The Virginian. I forgot how much I enjoyed that show when I was a kid. Trampas!! I always watched everything that had Doug McClure in it!
9:45pm
Well, I'm pretty disappointed in the satellite. It's going to take me several hours to lock out all the useless channels that I don't want. When the guy talked to me about it, I asked him outright whether there was a level that did NOT have sports or foreign language channels. He said yes. There are so many that I lost count! Grrr. I would not have signed up for this if I knew I was just going to get all the same crap I had with the cable! Actually, there's way more crap channels! Plus, my mom is complaining that we don't get TMC now ... can't win. Stuck with it for two years now, so we'll have to get used to it.