3pm
I forgot to share the picture of my dinner last night in yesterday's post. It was beyond good.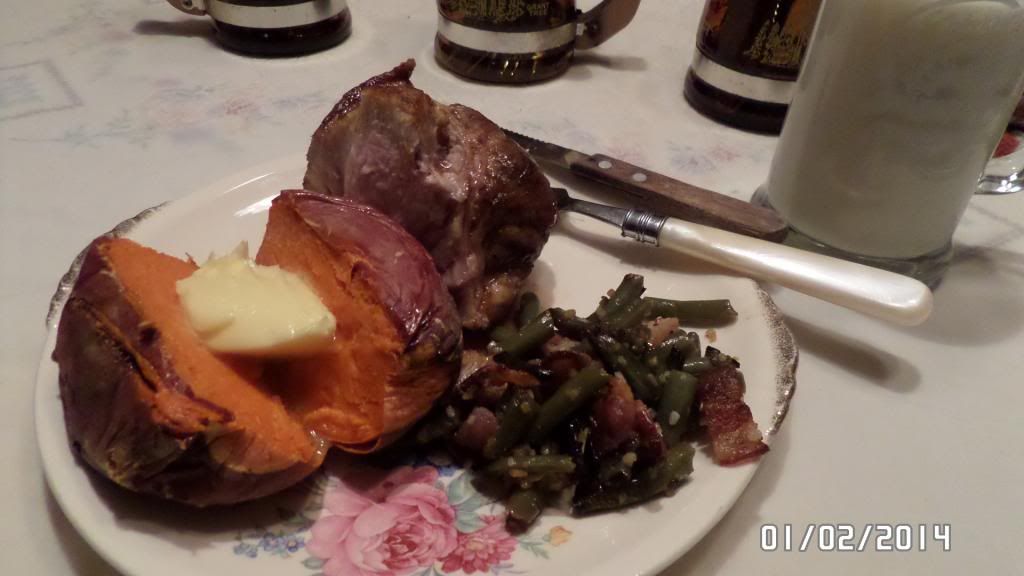 I did 100 jumps on the trampoline this morning. Trying to do this every morning.
Busy morning. I paid bills, got gas, went to the pet shop, went to the co-op, serviced 2 stores and set up reset appointments for 2 stores to do next week.
Tomorrow will be pretty busy. My mom wants to go shopping for some clothes, then we need to go to the co-op for some food, & stop at Home Depot for the kitchen lighting ... and, I need to clean cages and paint somehow ... I don't think I'll get to it all ...
4:15pm
Zhena's Gypsy Acai Berry tea
! Not bad.
Soup for dinner. Potato, cauliflour, rice, ground buffalo and spices. Mmmm. And, milk with potato starch.
5pm
Hmmm. I was going to order stamps from USPS.com for the first time ... they charge a shipping fee - $1.25! Don't know if I will now ... I can't get a good variety from my little post office annex in the grocery store.
I might just have to go to the main post office next time I pass it ...
7pm
Auction: Gone With The Wind (2 VHS Box Set) - Used