6pm
Can't believe it is already the last day of January tomorrow! We finally got a little rain yesterday, but certainly not enough to help with the drought we are in!
Twelve days until my birthday ...
I finished the scarf I was making for the birthday present. Starting on the headband tonight. Shouldn't take too long. I'll post pics of it all before I package it to send and post on my craft blog.
I'm on Day 5 of the 30/30 Squat Challenge. I didn't take pics the past 2 days, but here is today's pic: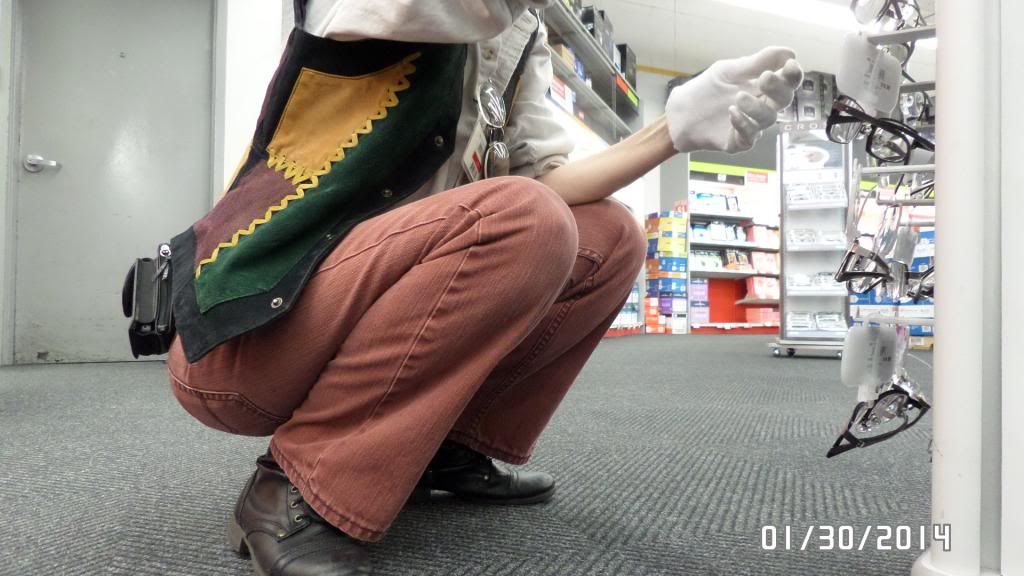 Working at one of my stores ...
I made a couple of ATCs for a swap and you can see them on my craft blog:
Postage Stamp ATCs
8:30pm
Saturday is Free Museum Day in the Sacramento area. We have one museum participating here in Woodland and I live very close to it. But, I've never been there! So, I am going! And, I'll drag my mom along ... It's the Heidrick Ag History Center
http://www.aghistory.org/
I wish I had some cash left after paying bills and getting some other things today ... I just found out about it today - after my cash was all gone ... Would have been nice to have some lunch there, but it will at least get us out of the house for a bit! We might listen to the band, though ... And, I'll take a few pictures.
And, Sunday is the craft circle at the Co-op in Davis. I think I will be starting on the blankets for the bucks' cages.
Feb. 21-22 is California Duck Days. I'd love to go, but it would be $50 for both of us and I doubt my mom would want to or be able to walk through certain areas of the Yolo Bypass Wildlife Area with her bad knee ... It is between here and Davis and West Sacramento, so not far from us. I pass part of it every time I go through Davis to get to Sacramento ... so, several times a week! Love seeing the flocks of birds there. I'd love to go on the Grizzly Island tour to see the Tule Elk ... oh, well ...
10:15pm
Wow! White Collar's season finalé was a real cliff-hanger! Waiting impatiently for the season 6 announcement!
It felt kind of weird today when I finally went to my cable company to cancel the TV portion of my bill. I wanted to pay down my bill more (it was 1.5 months late ...) before I did it. So, just have my internet with them now after all these years ... they will be coming to disconnect in the morning. I was amazed that the Dish guy followed through on setting up a special through the cable company for my internet to be nearly half price for the next year, too! I really didn't think that was part of the deal, but it was! I confirmed it when I went to the cable company. $30, rather than $55 per month! That will really help me out. As well as the special I got for the Dish which was free set up, first month free and $55 per month for a year. My first bill was actually -$17! So, I won't have to pay anything until next month!
We just had a downpour that lasted about 10 minutes that woke my mom up. She came out and asked if she heard thunder. I didn't hear anything but the very heavy rainfall. And, now it's gone ... :(