11:45am
Busy, fast morning. I made my mom help with the cages this morning and she actually did some things without being prompted! Shocker. Then, took her to Payless Shoes and she got 3 pairs and some socks. After that, to the co-op for a few things. Pretty much broke again. Didn't go to Home Depot as my mom pissed me off about going there, so I said the hell with it. I'll go when she's not with me.
It's really windy again, so probably no painting this afternoon.
Going to work on my website, I guess. And, get some things listed online.
Wow. My mom came up with a great recycling idea! Use the butcher paper from all the meat we get for my mail packaging! Most of it does not get any 'meat juice' on it, as they actually are wrapped in those little plastic sheets they use to pick the meat up before they weigh it and wrap it in the butcher paper. Not all is re-usable, but a lot of it is.
100 jumps on the trampoline.
Kefir with potato starch, vanilla and maple syrup for lunch. Mmmm.
Boiling some dropper bottles so I can get them listed later.
4pm
Numi Honeybush tea with milk. So good.
I've been cross-stitching most of the day. I should have this little Indian done today. Finally. Hope to start on the framing tomorrow.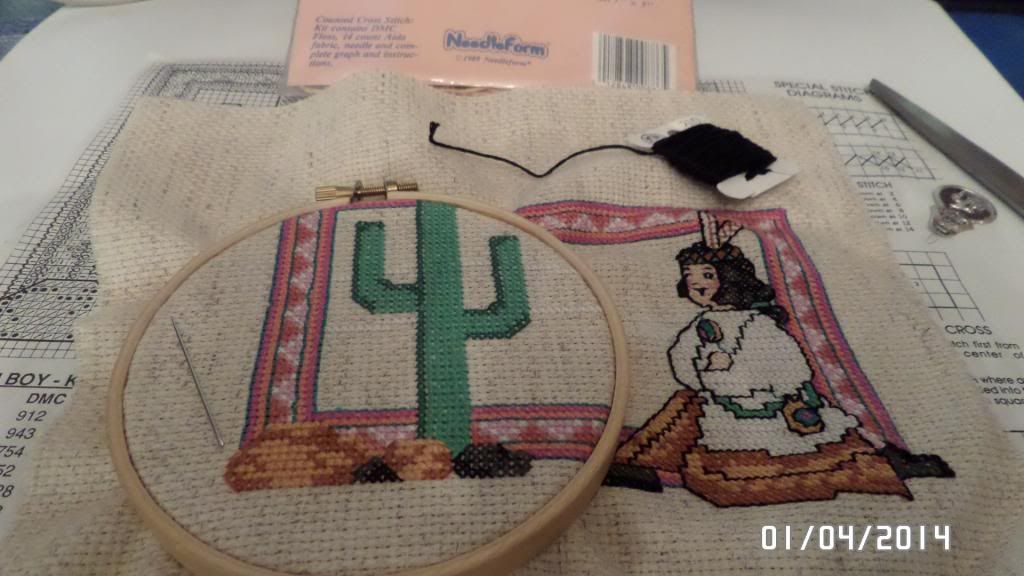 5pm
Dinner was pretty good. Pork burgers with pepper jack cheese & tomato slice on cabbage leaf! Usually use lettuce leaf for the burgers, but didn't have any. Also had Mandarin orange and, milk with potato starch. No pic ...
6:30pm
Finished cross-stitching!! Tomorrow, I'll wash it, trim it and block it. I need to get some things together to decorate the frame when I find it, too.
Then, I need to decide on my next project to finish. Or, a small, easy craft. I decided that I am going to start going to the craft & knitting circle at the co-op. They meet twice a month. Tomorrow is the first circle of the year and I want to go to see what it's like and hope to get incentive to do different things. I found an old beaded macramé choker that I used to wear - below - when I was a kid and want to make some like it to sell. So, I might get some supplies together for that to take with me. Just have to calculate length, etc.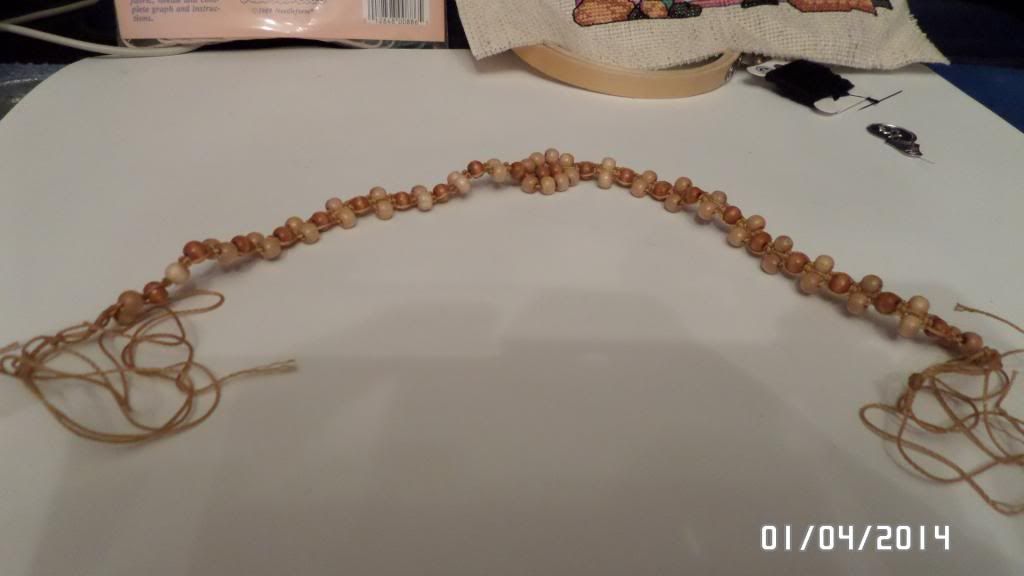 Cinnamon Tempest tea with milk while watching Emergency! Love that old show. Johnny/Roy OTP! ;)
Drying out the dropper bottles I boiled earlier, so I can get them listed on Listia. One of my best 'sellers' on that site.
Auction: 5 Amber Glass Dropper Bottles - Used
8:15pm
Watching Some Like It Hot on TV. I forgot how this movie started, so I almost surfed by it! I rarely watch TV any more. But, I started surfing channels and discovered that this TV is an HDTV and I didn't even realize it. So, we get more channels than I thought we did! My mom kept complaining that we don't get ION and some other channels we used to get before our cable provider changed their line-up a couple of months ago. Well, we DO get it. In the HD section of channels. I'll have to show her tomorrow.