8:30am
I have a bit of a stomach ache this morning. Probably all those dead nuts I ate yesterday ...
Nikky messed her bed again last night! Gave her some broth this morning and she loved it. She's still eating and drinking well and perky. So, I have no idea why she's having this messy problem!
Starting a second load of laundry ...
9:45am
Got the kitchen floor cleaned and the cupboards vacuumed.
Now, to get the knitting machine set-up and the yarn cast-on done.
1:45pm
The knitting machine is frustrating me. Can't get the darn yarn to cast on correctly. So, I had to stop and go out to paint for about 90 minutes. I did two little sections. Very light breeze, so I was able to use the ladder!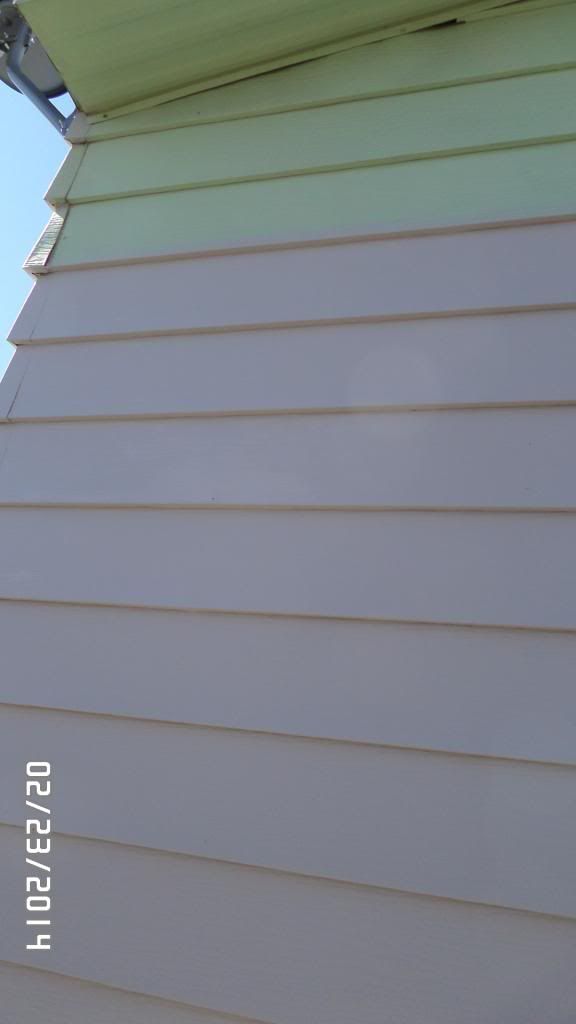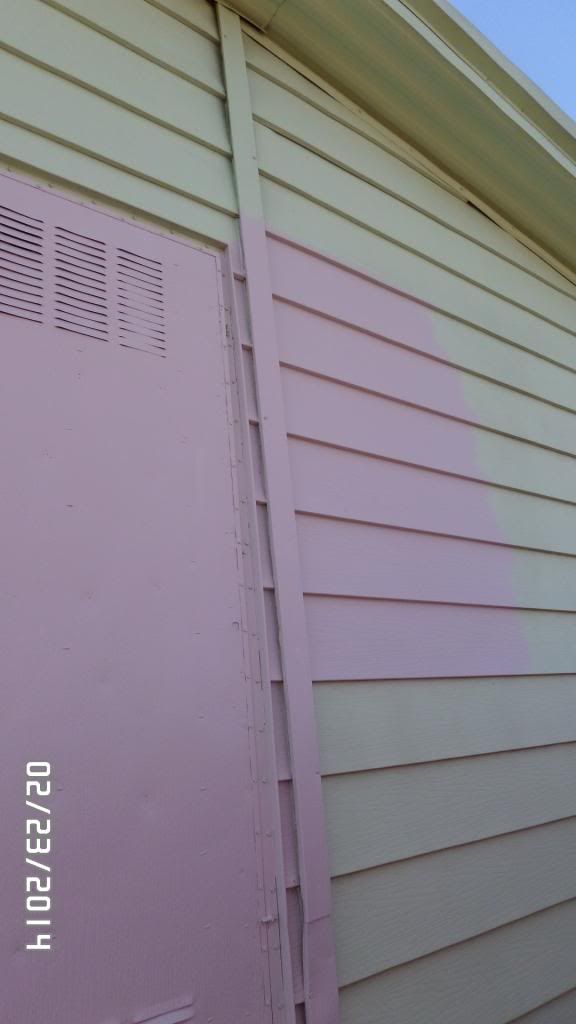 I won't be able to paint again for at least a week, since I have work the next 3-4 days and then we are supposed to have more rain (yay!) later this week and maybe through the weekend.
Time to get back to the knitting machine!
3:15pm
OK. So, I give up! The knitting machine will not co-operate! So, it is retired until I can replace some things on it or replace the whole thing ... I'll stick with my trusty little looms.
6pm
Well, I decided to teach myself some more crochet. I'd be doing great if I could just get the tension consistent. I always have a mix of too tight, just right and too loose ... then, I pull the chain and start over ...
100 jumps on the trampoline.
Ooh, I think I figured out knitting! With pencils! I can't find the old knitting needles that I know I have somewhere ... I definitely need to find them or buy new ones. The pencils work, but are not ideal (they aren't the same size, etc.) They are actually an old mechanical pencil with the lead pulled in, so I don't get it on the yarn & an old pen. I like knitting more than crochet, I think ... too soon to really tell, though ...
Knitting without needles. First try. Using an ugly orange yarn to practice on. Stitches are a bit uneven and tight ...
7:45pm
Looks like I will need to get a circular set of knitting needles to make the blankets I want to make or I will have a LOT of little squares to piece together! I was going to make them on the looms ... but, the yarn is too thin and that made the weave too open. I need a tight weave so the boys don't get their toes or feet caught in them when the dig on them. Also, so it will soak up their pee ...
Going to watch a couple more episodes of The Michael J. Fox Show. Too bad the series didn't get picked up for a second season.