6pm
I'm sick. First time in a couple of years. I have felt it coming for a couple of days. I should have expected it. I kind of had to 'fall off the wagon' of eating well this past month ... due to lack of money from the 2 weeks off of work in November (unexpected work shut-down) and then again another 2 weeks off in December (expected work shut-down) and then my mom's $300+ cut in her Social Security in December (damn Medi-Cal/government, etc.) A lot of bills got behind and real food got really scarce ... so, to fill in I had to rely on my Home Depot credit card and buy 'snacks' there ... roasted salted nuts, pork rinds and jerky were the closest they had to actual food. But, I also bought a few cookies ... and potato chips (which were totally disgusting and I could barely swallow them ... seriously! The chips were like cardboard! ewww.) When you are used to eating real food, the fake stuff really stands out! So, the stress of no money, bills going late and no way to buy enough real food ... I'm not surprised it finally hit me once I started catching up on things. Bills are getting paid and the fridge is filling back up with real food now. But, I have a small cough starting and hacked up some green stuff, so luckily I am off the next 4 days and hope to heal up. Taking extra Vitamin D3, drinking some ACV/lemon drink and homemade kombucha. And, lots of tea and water. Those who know me and knew me before I started eating right and getting healthy may remember I used to get pneumonia and/or bronchitis
at least
once a year and also had the start of asthma, as well as life-long allergies. I haven't had any of those issues in two years! I'll kick this in the butt, too!
I've been keeping up with the
30/30 Squat Challenge on FaceBook
. Here's a pic I posted there for today.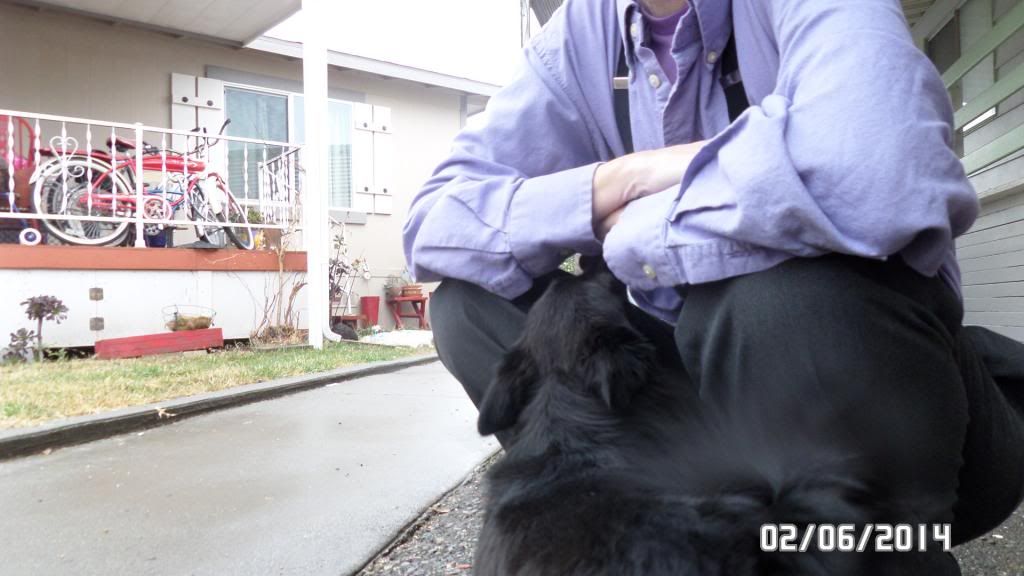 It's raining and Nikky didn't want to leave the carport!
I also made a new recipe, which can be found on my food blog -
Carrot and Fennel Hash Recipe
! It turned out really good. It was the first time I've tried fennel! Yum.
8:45pm
It's been raining all day. It's been great! It's supposed to continue through the weekend! Much needed around here! Great for my lettuce and other greens that I feed my bucks when I can't get to the co-op!
Tomorrow, I'll be making a ginger bug ferment for the first time. And, my second batch of kombucha will be ready for it's second ferment. I think I will be adding strawberry and fresh mint and it will be ready for my birthday on Monday!! Can't wait!
I really need to cough and nothing wants to come up ... hate this feeling in my lungs ... haven't felt it in so long ...
9:30pm
I was hoping to go to a basic water canning class on Saturday at the UCSacramento Extension. I learned about it when we went to the Home & Landscape Expo a few weeks ago. It is free ... but, if I am still coughing I won't be able to ... and, now I can't find the flyer for it! Tomorrow's project is to straighten my desk and office ... again. I really haven't been keeping it organized lately ...