10:15pm
Cough is a bit worse today. I made some hot lemon/ACV to drink earlier.
I've started a batch of bone broth with a beef shank and some beef bones.
And, I'm in the middle of making a new batch of kombucha. I started the second ferment on the previous batch with some mashed frozen strawberries and fresh mint leaves. That will be done and ready to drink on Monday! This new batch is being made with China Black tea and a bit of pomegranate white tea. Waiting for the tea to cool before topping the SCOBYs. Then, the 14-day wait to start over again!
Once I get that going, I'll be starting on making the Ginger Bug for the first time.
I need to get a letter written to my penpal, Barb, later. And, have a few swaps to get organized to mail next week.
11am
Third load of laundry started. Kombucha in the cupboard. My mom is washing dishes, so I'll wait to do the Ginger Bug later.
11:30am
Just made the Ginger Bug. Incredibly quick and easy to start. Now to maintain it daily. It's up on top of the fridge now.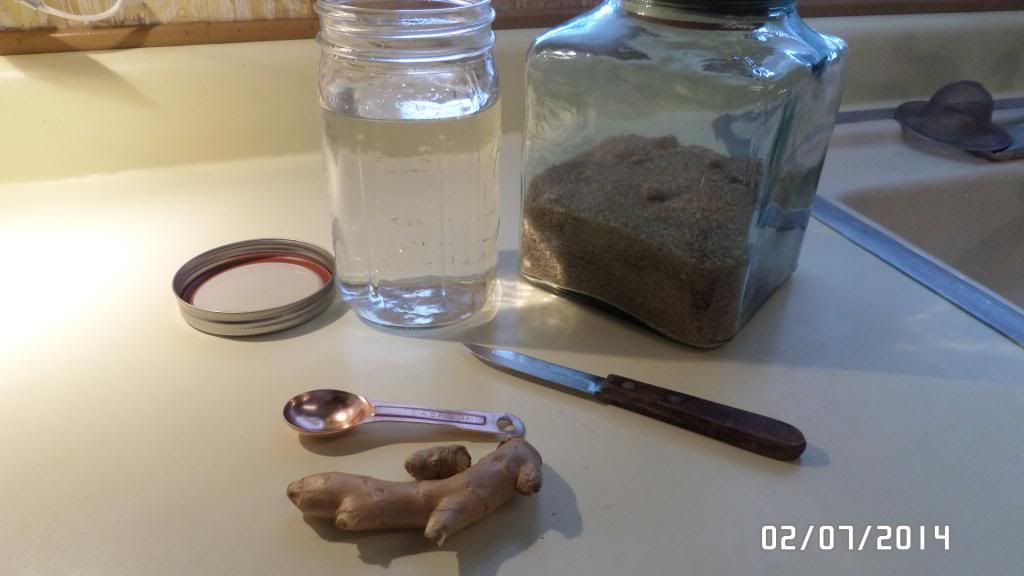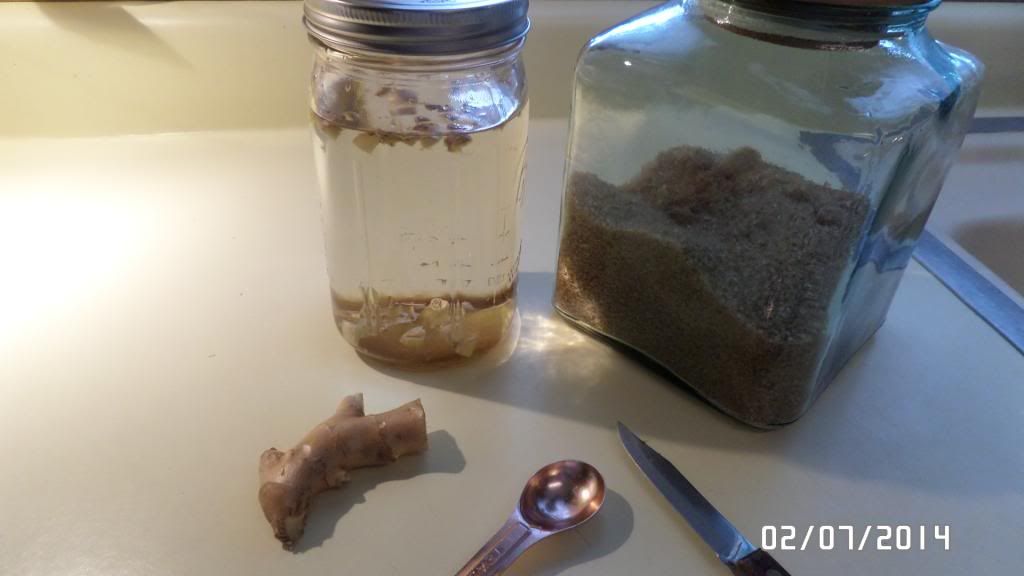 It'll be ready in about a week! Then, to decide what kind of soda to make with it ... ;)
I wish I'd been able to get some honey this week. It will have to wait until next week when I go over to Dixon ... at least my throat doesn't hurt. Just a slightly 'rough' feeling. My breathing is still good. Just that annoying, deep cough trying to clear my lungs ... and a slight headache ...
I do have some honeycomb with honey. But, I prefer to use the raw creamed honey. It's more soothing. And, tastes better!
4pm
WooHoo! Just heard from my farmer! Cow has calved. I'll be going on Thursday for milk, eggs & hopefully some colostrum!
5:15pm
I wanted to go to that canning class in Sacramento tomorrow ... but, it's not meant to be. Not only can't I find the flyer about it, but my cough is worse and it is pouring rain and very windy which is supposed to continue through the weekend. So, I guess I won't be spreading my germs around. haha!
6:15pm
Already annoyed and tired of all the damn Olympics crap in all my media timelines ... sports sucks. Although, some of The Backlot tweets are funny.